A fully supported four-day ride on the C&O Canal. Join us as we begin in Cumberland, MD and ride to Mile Marker 0 in Washington, DC. 184.5 miles of no hills, no headwinds and no cars. Plenty of food, lots of support, ride at your own pace, well organized. This is the 36th annual benefit ride for San Mar Family and Community Services, a 501(c)3 nonprofit that maintains national accreditation and has provided services  to children, families, and the community every day since November 8, 1883! Learn more about our important work online at sanmarhope.org.
THE RIDE INCLUDES
Transportation by charter bus to the start of the C&O Canal.
All meals and snacks.
Free parking for your vehicle throughout the event.
Rest stops every ten to fifteen miles.
Camp fees paid for the first two nights or transportation to nearby hotels.
Hotel on the third night.
Transport of all gear throughout the event.
T-shirt and a TGBT keepsake
Return to your vehicle by charter bus from Georgetown at end of the event.
A lifetime memory.
Schedule
Join this popular four-day tour, or just ride for the weekend. Either choice starts on the morning of Saturday, July 8th when charter buses transport the entire group to Cumberland for the start of this great adventure. We also support an option to get a taste by joining us for a single day on Sunday, July 9th, beginning in Williamsport, MD. Please contact us for details and register by June 30 if selecting this option. In any case, be warned… this event may become habit forming!
A fully supported ride from Cumberland, MD to Georgetown, DC | 184.5 miles
Friday Evening – 4 pm to 7 pm
Join us for the CARBO dinner! Bring your bike and plan to register early
Good friends, new and old, great food, and the opportunity to register early. Start your ride off right, and make Saturday morning a breeze by joining in on the festivities the night before. We will take care of getting your bike loaded while you enjoy the fellowship of your fellow riders and loading up on carbs. And, you are welcome to bring along a guest or two to join you!
Saturday – Day One
44.5 Miles – Cumberland Train Station (Mile 184.5) to Little Orleans (Mile 140)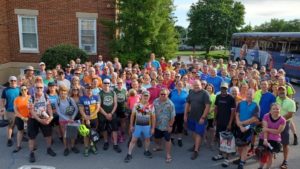 We meet at the San Mar campus in Boonsboro and ride in chartered bus style to Cumberland, MD, where you will be reunited with your bike in anticipation of the adventure that is about to begin. Notably after lunch, the ride includes taking your bike for a walk through the Paw Paw Tunnel – remember to bring a flashlight! Once through the tunnel, get back on your bike and feel the wind in your hair as you travel along the towpath to Little Orleans. Here you will exit the towpath and proceed to the campground, about a mile from the trail. You can ride to the camp – challenging hill and all, or load into the waiting vehicles and meet your bike and gear at camp. If staying at the hotel, bring your suit and change in the bathhouse, then enjoy some well deserved time by the pool. We eat at 5:00 in the pavilion above the pool. The shuttle will depart for the hotel following dinner.
Sunday – Day Two
52 Miles – Little Orleans (Mile 140) to McMahon's Mill (Mile 88)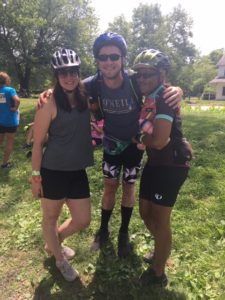 Breakfast will be served in the pavilion. We will begin the ride following breakfast. We know you are excited to get back on the trail, but this day will go quickly and departing early may mean you get to the rest stops before we do. Use CAUTION when leaving camp: remember the challenging hill from yesterday? Once on the trail, you can choose between staying on the towpath, or switching over to the Rails and Trails path – a 22 mile paved alternative. Two rest stops are available, and an amazing lunch will be served along the route today.  At Cushwa Basin in Williamsport [mile 99], MD, there is a short, easy ride by bike to the campground for those looking for a shortcut to end the day. Feel free to check out the C&O Visitor Center and Museum. The final stop is McMahon's Mill, and transportation will be waiting, or you could go for it and earn an extra miler patch by riding your way back to the campground. Dinner is served at 5:00 in the pavilion.
If joining in the weekend only portion of the ride, you can be picked up at the campground – you will want to meet them at the front entrance. Transportation to San Mar and the hotel will be available following dinner. You are welcome to invite friends or family to join you for dinner for $10 per guest.
Monday – Day Three
53 Miles – McMahon's Mill (88) to White's Ferry (35)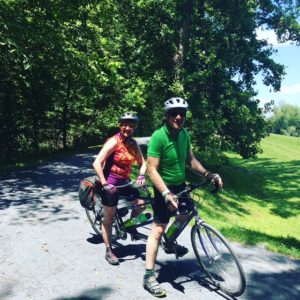 Breakfast will again be served in the pavilion. Transportation will be available, or you have the option of riding from the campground to the river. It is just a couple of miles over level roads. The upcoming section of the trail, Big Slackwater, reopened in the fall of 2012 and is one of the most scenic parts of the trip. You will ride thru the Big Slackwater area (mile 88 to 85.4) on the new concrete piers and bridges, giving you a most spectacular view of the river, and then returning to the original trail at Dam No. 4. You will again have two sponsored rest stops and a yummy lunch today.
Everyone stays in the hotel tonight! Rooming preferences should be communicated to the San Mar staff during online registration. When you arrive at Whites Ferry we will have vehicles waiting for you in the parking lot. You will be given your room key and check in instructions at this time. Dinner will be at 5:30 PM. Massage therapists will be available at the hotel. Don't forget to sign up for a session.
Tuesday – Day Four
35 Miles – Whites Ferry (35) to Georgetown (Mile 0)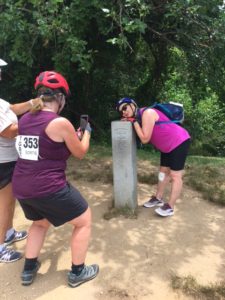 Breakfast is at your leisure in the hotel. The buses will meet you in front of the hotel by 8:00; and your bike will be waiting for you at the aqueduct parking lot. We will have a rest stop at Seneca and lunch at Great Falls. We want to leave the Falls as a group so that we all arrive in Georgetown together. We don't want to risk anyone missing the bus. It has happened! In Georgetown, DC we will complete the journey at Mile Marker 0, and board charter buses for the return ride to San Mar. If you are being picked up in Georgetown you can have your friends meet you on the corner of 30th and K street (Swedish Embassy) at 2 pm beneath the Whitehurst Parkway.
Our Sponsors | Generous Partners
Our wonderful sponsors are an imperative part of our team, giving us both the financial and logistical support we need. We gratefully present our 2022 sponsors below, and we commit to working throughout the year to recognize the important contributions of all current partners. Interested in sponsorship for the next event? Contact Elisa at 301-733-9067 x250 or emabina@sanmarhope.org.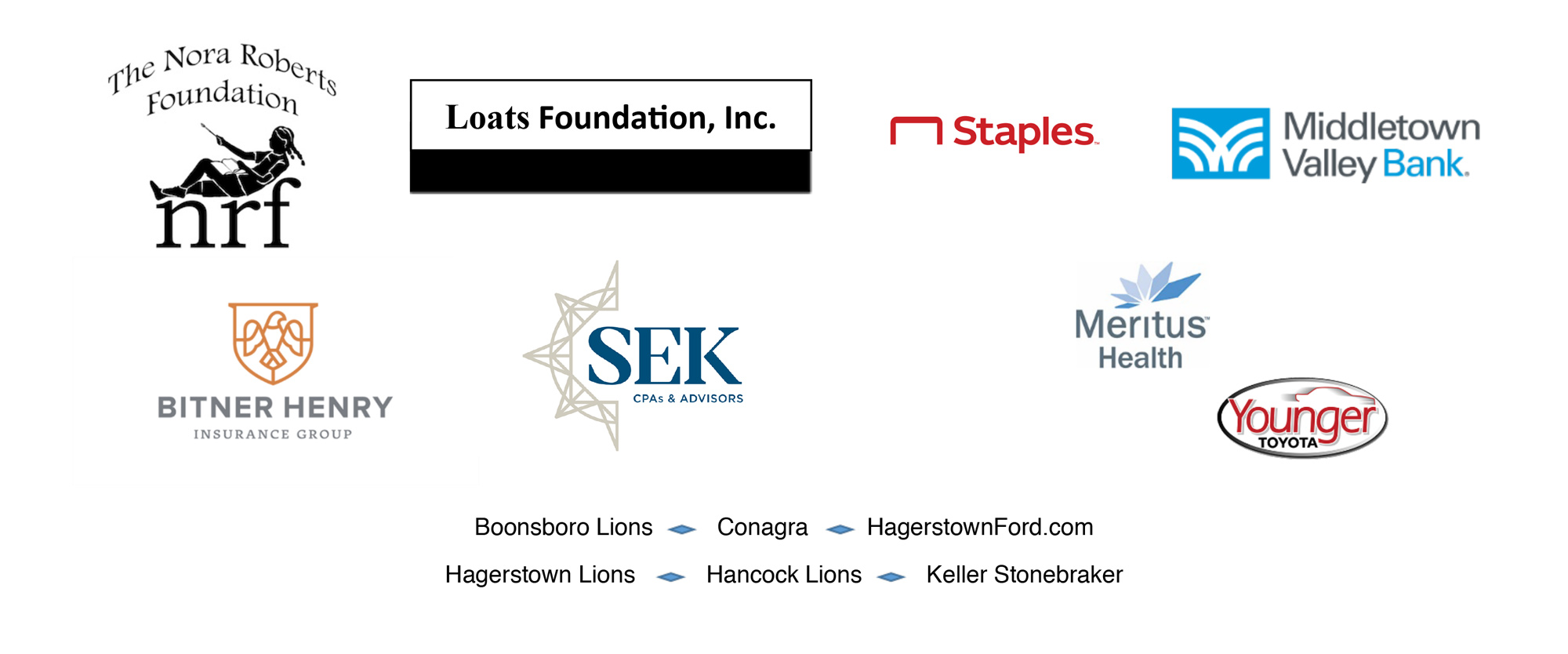 Fundraising Prizes
This popular charity bike tour of the historic C&O Canal is an annual fundraising event for San Mar Family and Community Services. Registered riders raise donations of at least $525. Riders who surpass the minimum donations can earn quality bicycle gear/accessories from Trek Bicycles at the following levels:
*These, or similarly valued prizes, are distributed following the ride*
$750: Bontrager Circuit Windshell Cycling Glove – Valued at $52
$1000: Delta X Mount Handlebar Pro Phone Holder and Polar Breakaway Insulated Trek Have Fun Water Bottle – Valued at $76
$1250: Professional bike tune-up – at Wheel Base Bicycles – Valued at $100
$1500: Bontrager Elite Cycling Computer with DuoTrap S– Valued at $136
$2000: Bontrager Velocis Softshell Cycling Jacket and Electra Cruiser Handlebar Mirror – Valued at $160
Go First Class
The Golden Retriever Plan: (For those who desire to travel First Class all the way while significantly impacting our non-profit) In addition to all of the regular benefits of the tour, when you turn in at least $3,000, prior to the start of the event, you receive
Complimentary hotel accommodations each night of the tour, or camping if you prefer.
If you decide to camp, your tent will be set up and waiting for you when you arrive.
The support team will carry your luggage for you throughout the tour. (No tipping please!)
A massage will be provided each evening by certified sports massage therapists
Go to the head of the line for transport to the camp or hotel at the end of each day.
You will receive Golden Retriever swag designating your special VIP status.
$3000 – $500 towards a new Trek Bicycle (or Trek products of equal value)
$6000 – $1000 toward a new Trek Bicycle (or Trek products of equal value)
$9500 – Trek Travel (multiple dates 2022 or 2023) A special 5-day/4-night desert riding adventure in Arizona, augmented with spa treatments at your resort – Valued at $3200! (one person/double occupancy)
Sign up today to receive your personalized donation page! The page includes up to the minute donation amounts, and other information about the ride. You no longer have to ask for checks or knock on doors to raise the money, just email the link to your donation page and you'll hit your goal in no time. It is a wonderful ride and an even better cause. Thank you for your time and we look forward to seeing you in July!
Registration Fee:
Early Bird Registration- $20.00 through December 31, 2022 |
*2022 Golden Retrievers can register for free*
Standard Registration –  $40.00 January 1 – June 8, 2023 |
Last call Registration – $60.00 After June 8, 2023 until "sold out!"
A "Dog Team" Production!
Several years ago, in the heat of the Dog Days of Summer, several of the riders began calling each other by "dog" nicknames. It was a big joke at the time, but one that resonated with many. Participants determined that everyone who completed the tour would become a member of "The Dog Team". Since that time, numerous individuals have smiled at the summer camp style of such a concept, only to find themselves searching for a proper nickname as they near the end of the event. We hope you too will feel the pride that comes with being part of the "Dog Team".