Rider comments/Reviews from TGBT XXXVI – July 8-11, 2023
"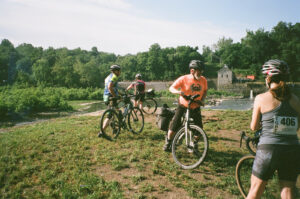 Thank you to the San Mar team and all the Volunteers for all your hard work. TGBT is so much fun and everyone is extremely friendly. The community is so fortunate to have such a caring and committed organization such as San Mar."

"Thank you!!! Your leadership, commitment to purpose, and dedication to cause inspired a community. It is so rare today in America to be able to assemble a diverse group – geographically, socio-economically, politically, racially – and to unite them under one cause. You did that with this community. And you did it perfectly. By sharing the story of how people helped unload bikes, you set the tone and the culture of sharing and supporting others, and you invited people to join. Over shared meals and long days biking, this community formed and bonded. And by introducing the key players that make San Mar run, the community was introduced to the incredible people that do the work we are all supporting. We are so grateful to have been members of this community and to have supported the important work you do. Thank you, from the bottom of our hearts!"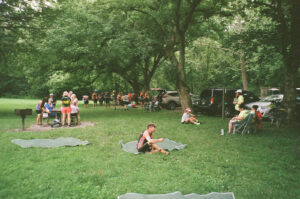 "Thank you for an awesome four days on and off the Canal. Thank you for the care and attention to every detail making the whole enterprise work smoothly and effortlessly, (I wouldn't have thought it possible.) Thank you for the good and mighty work that you do and plan to do. You are doing it well." ~ Barbara Tobler
"I want to thank you for a wonderful experience participating in TGBT #36! The planning and coordination was rock solid which made for a very enjoyable and stress-free trip even for us first-timers. I admire and appreciate the work San Mar does for the community and I'm glad I could raise some $$ to support. Hope to see ya next year." ~ Jamie Farver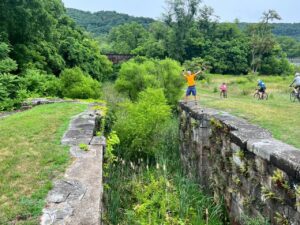 Rider comments/Reviews from TGBT XXXV – July 9-12, 2022
"Dear San Mar Team, Another one for the record books! Thank you for all the work you do year round (and for putting on such a phenomenal event!) See you next year! Love, Amy, Bobby and Gigi"
"Many, many great experiences! Far too many to list but I have my own diary of the ride. Loved it, loved it. A lot of logistics for such a huge group. Every single staff person or volunteer from San Mar was exceptionally friendly and helpful. I was so inspired by all the staff that I'd like to help in the future! I'm tempted to ride it again but if I don't, I would happily volunteer to work on a day or two – handing out water or whatever. Also, I could make maps – for those of us who love them. I made my own. Thanks so much for a memorable experience! I'm still re-living it every day!"~ Ruth Babylon
"I loved the people we met and new friends we made. This is a great event. The girls who drove the vans are so, so awesome. They are a treasure! I have no complaints. You did a great job. The CEO guy was a great leader. Funny, nice and effective."
"The staff, crew and volunteers are A-#1. The food was great. Overall, my best ride experience in all of the 7 years I have ridden."
"This is a fantastically run event. Any "issues" I had with the ride were because of outside vendor complications. These include shuttles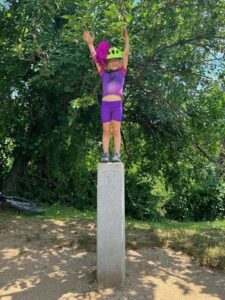 to and from lodging running late, food quality at some of the lunch breaks, and so on. Your crew is top notch and the SAG support staff were outstanding."
"Organized, friendly, patient, kind, fun… what's not to like? Great job!"
"This was my first time and it was so much better than I expected! I loved the staff, the camaraderie, the pit stops and the safety knowing there were sweepers and mechanics on the route! I am excited to do it again next year."
"I had a wonderful time! The SanMar Support staff is top notch!! The grape jelly and peanut butter sandwiches were delicious!! It became very apparent to me that the caring SanMar Support staff is very committed to their cause."
Rider comments/Reviews from TGBT XXXIV – July 10-13, 2021
"We did it! ~ San Mar did a fantastic job of supporting, encouraging and doing whatever was necessary to make this ride not only poss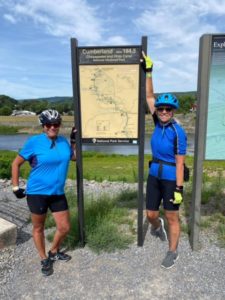 ible but doable. The whole San Mar team was marvelous and I commend and thank each of you!" — Sandra Redmon
"We did 184.5 miles in four days along the C&O Canal. We made a lot of friends and raised $$ for San Mar. Thank you to everyone who donated towards this great cause. I am definitely doing this again next year!" — Rosemary Levy
"Job well done! It was a great experience for me and I hope to participate again next year." — Daniel Waters
"The C&O Canal is absolutely beautiful! Getting to meet the San Mar team and see in person all the amazing things they do was also incredible. They provided breakfast, lunch, and dinner for us. The other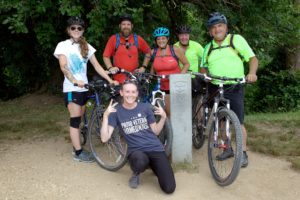 cyclists are so friendly and encouraging. Thanks everyone for your support!" — Halie Saunders
"It was great meeting the San Mar team! I met so many amazing people and everyone was so friendly. I had so much fun and look forward to being a part of future rides. Thanks!" — Beau Crowding
"Thanks for a fun time! It was a great ride for a great cause. Worth the drive from Colorado!" —
Reid & Stephanie Wiecks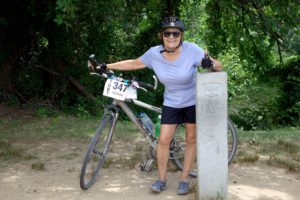 "Thanks for another great ride and lots of wonderful friendships. I had a great time and got to see a lot of people I hadn't seen in a while. I really hope to see you all next year. Keeping all the families connected with San Mar in my prayers." — Denise Shutt
"I should be the one thanking the staff at San Mar. I had the best time on the ride. It was just what I needed! I was able to raise money for such a great cause and I made some great friends. The only problem with the ride was it was only 185 miles and not 250. We all did not want it to end. I will be back next year. It was very nice meeting you. Everyone at San Mar were very passionate and it shows how important this is to all. I am honored to be part of this and be a small part of San Mar's success." — Mark Bindon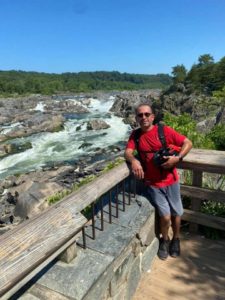 "Thank you for everything. It was an amazing time and I plan to do it next year again. Thank you for all the support you gave us. I know it was a lot of work for you guys. Thank you!!!!!" — Mauricio Martinez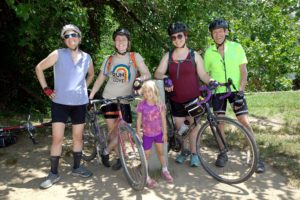 "We appreciate so much ALL that the San Mar team did over the course of the ride. Bobby and I talked much about how demanding and needy we were, and how you all took such good care of us! We just can't stop talking about the ride, and I think we may have even convinced some folks to join us next year!" — Amy Greensfelder (see her full story below!)
Ashford/Greensfelder Trip Report
The Great Bicycle Tour of the C&O Canal 2021
Thank you for supporting San Mar Family and Community Services and our 184.5-mile bike ride on the C&O canal tow path! We got involved with this ride because it seemed like a fun challenge for our family, but, as we learned more about the work of San Mar, we have been overwhelmed by the work they're doing to support children, families, and communities in Western Maryland, and how they approach the work they do. San Mar started as an orphanage in the aftermath of the Civil War, and multiple times over the past 150 years has evolved and changed to best meet the needs of kids and families. Our journey with the Great Bicycle Tour started as a bit of a whim and we've grown to embrace San Mar and their work!
How it all got started! In mid-May, I (Amy) saw a Facebook ad for a supported family bike ride along the C&O canal tow path. It caught my attention as something that we might be able to do as a family, so I mentioned it to my husband, Bobby. We spent about a week debating whether we could really do it with our four-year-old daughter (Georgie), and then decided to register for the weekend portion of the ride. After getting into the groove of training, and participating in a zoom call with the organizers and other participants, we thought, what the heck, these folks seem like fun, let's do the full 4-day trip!
How We Prepared: There were two main parts of getting ready: getting our bodies prepared for a multi-day bike ride, and figuring out our gear! For training we tried to ride a few times during the week, with progressively longer rides on the weekends. Eventually we got up to 40-mile long rides on the weekends. During our training we were able to explore local rail trails as well as trails in Pennsylvania, Ohio, and Missouri during road trips we took over the summer. The training helped us figure out how to dial in our gear, and what was missing from our kits (early lesson: always carry a spare tube—thankfully a friend rescued us)! Training really brought us together as a family. Living through the pandemic has been difficult for everyone, and this trip gave us something to work together on, and rely on each other for. It brought out the best in all three of us, and gave Bobby and I a chance to share with our daughter the long distance endurance events that brought us together at the beginning of our relationship.
Day 0, Friday: The trip started from San Mar's Boonsboro campus. On Friday evening there was a chance to drop off gear, register, and enjoy a spaghetti dinner. The San Mar staff had graciously offered to let us stay in housing that had formerly been used as a group home for teen girls, so that we could be ready to roll in the morning!
Day 1, Saturday: We had three tasks to accomplish before the buses departed at 8:00 on Saturday morning: get ourselves ready/get our remaining gear to the organizers/eat breakfast. Since we (well, Bobby and I) are morning people this seemed totally manageable. In spite of rising (Bobby and Amy) by 5:00, we still managed to have a tail spin whirlwind arrival into breakfast five minutes before it was slated to finish—we were hopeful we might be able to grab a granola bar to eat on the bus. Much to our relief the buses hadn't arrived yet, and when we got into the kitchen hot eggs, bacon, sausage, and a French Toast casserole were still being served! We were able to get our gear loaded onto the buses, and we were seen off by a county commissioner who had grown up in the care of San Mar's Children's Home—he spoke movingly about the care he experienced, and fittingly, learning to ride a bicycle not far from the site where we were standing.
After the opening remarks, all 120 of the participants boarded two charter buses to ride to the start of the ride (about an hour away, in Cumberland, Maryland). On the bus ride we watched a video about San Mar's services. One of the core values that was shared is "unconditional care", which means that San Mar treats their program participants with deep care and respect, and they don't give up on folks.
Shortly after the video ended we arrived in Cumberland, and hit a snag: the parking lot we were supposed to park in was hosting a Drive Through Pet Nail Clipping event, and the bus we were on had managed to find itself stuck in a line of cars for nail clipping! I don't know how he did it, but our driver managed to back the bus through the narrow parking lot, and get us over to the area we were unloading.
The event staff unloaded our bikes while we got our bike gear together (our camping gear was kept on a separate truck that would meet us at the end of the day at the campground). Somehow between bathroom breaks, getting Bobby and Georgie's bike set up, getting all three of us sunscreen-ed, and whatever else, we ended up being among the very last riders to push off…but, it wasn't a race so we weren't too concerned!
While riding we encountered another family riding together—a mom, grandmother, and a kid who was about 8 who was riding a bike solo. This gave me some relief that we weren't the only family! We got to the first break, and there were plenty of snacks and drinks, as well as volunteers cheering us on and playing motivating music. We managed to not be the last out of the rest stop, and headed on another 10 miles towards lunch. Throughout the day we mostly were riding just together as a family, but there was a boy scout troop (not connected with our ride) on the trail that we kept leap frogging on the trail, and a few other riders with our ride that we'd trade places with and talk briefly to as we passed.
At lunch Bobby had his first "fluffernutter" (peanut butter and marshmallow fluff) sandwich. No one was in any danger of going hungry on this ride! Our next (and last) rest stop of the day was another 10 miles down the trail, and while we were still in the rear of the pack we again weren't the very last. We got about 1.5 miles down the trail though, and I heard Bobby say, "oh! My sunglasses" I was about 20 feet in front of him and Georgie, and thought he was just saying he'd forgotten to put his sunglasses on—I thought he was going to just put them on quickly, so I kept riding. I quickly realized they were no longer behind me, so I stopped and looked back—they were pulled off the trail. I continued to wait, but then realized they were going back up the trail towards the lunch spot—it then clicked that Bobby must have left his fancy brand new (bought less than a week ago) cycling sunglasses at the lunch stop! We hammered back up the trail, the sunglasses were recovered unscathed, and we continued again, having reclaimed our spot bringing up the rear! A "sweep" mechanic rode along with the group, and would ride with whoever the last rider was. We only got this honor at one point during the day, and it was enjoyable to chat with the mechanic!
The last highlight of the day was the Paw Paw tunnel. We had to get off the bikes and push them through the half mile tunnel, and it was nice to have a walk break. We walked through the tunnel with some other riders from the group, which provided company in the dark!
We continued on to the campground, and there was a spot just off the trail to leave our bikes, and vans waiting to take us up the road to the campground. We got up to the campground and once we got the tent pitched Bobby started looking for our bikes, which had been brought up from the trail. He found Georgie's and his…but mine was nowhere to be found! He let the organizers know, and they searched and searched to no avail. He and the San Mar CEO hopped in a truck, went down to the trail, and recovered my bike! While I continued to set up our bedding and organize our gear Georgie made fast friends with one of the San Mar staff members. Georgie got a total kick out of accompanying her to pay the campground bill, and attend to the needs of various riders (and convincing the staff member and her husband to play with her on the playground!).
After a dinner of fried chicken, macaroni and cheese, and rice and beans, and warm showers, we headed off to bed, knowing we had an early start in the morning. We had heard rumors of possible rain overnight, so we made sure all our gear was brought into the tent, and zipped up. Good thing because Bobby and I were awoken at midnight to a light rain. We fell back asleep, and woke up at around 2:00AM to showers…coming down…inside the tent, and water coming up from the seams of the tent. My reaction was to pull the covers over my head and hope with every strand of my being that Georgie was dry and would stay asleep. Bobby's reaction was to stand up in the middle of the tent and rail against the universe and the person who had sold us the new-to-us tent (explicitly advertised as "no holes, no leaks"!) We somehow managed to fall back asleep, but woke up with soaked bedding. Georgie slept all the way through breakfast (we saved her a plate), and we packed up everything we could around her. Finally, we got her up and realized she had been sleeping in a puddle, and her sleeping bag was soaked through, but, she'd stayed warm and cozy and was totally nonplussed!
Day 2, Sunday: Of absolutely no surprise, we were in line to be the last riders to hit the trail! But then, two vanloads of riders who had stayed at hotels and B&Bs showed up, saving us from the dubious distinction of last to hit the trail every day! Day 2 offered the treat of riding on the Maryland Rail Trail, a paved path that parallels the C&O tow path. The paved trail was fast and smooth (with some bumps from roots that Georgie wasn't the biggest fan of!).
As we rode we discussed our dilemma. We had planned to camp again, but had a soaked tent, soaked bedding, soaked pillows, and a leaky tent. We decided to inquire with the event staff about whether there might be room at any of the hotels that non-camping riders were staying at, or if the campground might have a cabin. Limited cell service along the route made it difficult for us to figure out any of this without their assistance. Upon hearing of our dilemma, the San Mar CEO offered to let us stay in the loft area of a cabin that was being used as a rider hospitality station at the campground. We were extremely grateful for this offer, and it gave us peace of mind as we completed the day's ride! While riding we fell in with two women who were riding at a similar pace to us. It turned out they were both from Greensboro, NC (where Bobby and I met), and work in nonprofits (as do Bobby and I), which gave us lots to talk about! We continued to ride with them on and off throughout the rest of the ride. It rained on us twice on day two, but it was warm, and the rain was mostly pleasant. After a final rest stop with watermelon, the ride ended after a mile or two on exposed cliffs bordering the Potomac, which offered a gorgeous view!
The campground we stayed at was a Yogi Bear/Jellystone Resort, complete with pool, water slide, ice cream bar, and every amenity you could imagine. Once we got reconnected with our gear, and located the cabin we were going to be staying in, we spread all of our bedding and wet stuff out "yard sale" style. The sun had come out at this point, and everything dried out while we joined the group for burgers! We had a chance to swim in the pool and enjoy ice cream before heading off to bed.
Day 3, Monday: At 53 miles, and under brutal sun, I'd say day 3 was the most difficult cycling day. We rode on and off with our new friends, which really helped us push through. By lunch the heat had really sunk in—the lunch spot had a hose at it, and taking our cue from other riders we took turns spraying our heads off to cool down. The last leg of the day was only 6.5 miles, which was the shortest distance between stops on the trip, but for me, it was the most difficult (in retrospect, I think I probably had mild heat exhaustion). Those last few miles felt like the last few of a marathon! Bobby and Georgie were doing fine, so at a couple of points they got ahead of me, but each time they waited for me to catch up. I pulled out every mantra I could think of (my favorite is "there will come a day when you can't do this, today is not that day"—when I ran my first half marathon someone was holding a sign that said that, and I've adopted it as a running mantra—turns out it works on the bike too!), and took a cue from Georgie and hummed "In the Hall of the Mountain King" (Edvard Grieg. You know the tune even if you don't think you do. I'll wait while you pull it up on your device!). The trail finally opened up to the parking lot where a van was waiting to take us to the hotel.
At the hotel there was a snafu, and our rooms weren't ready! The lobby was full of riders, all smelly, sweaty, and waiting for showers. Luckily, the TGBT group is one that makes their own fun, so we chatted with other riders, tried to figure out if we could use the pool while we waited, and someone handed me a Michelob Lite that, given my state of exhaustion gave me a buzz from the first sip! We finally got to the room, and the warm showers we were waiting for. No luck, there was only cold water in the shower, which meant no dawdling—we got dressed and ready for dinner.
The organizers had reserved a Japanese Steakhouse for us (where they cook in front of you). It was a fun way to end the night…except, I was really crashing quick. As soon as my food landed in front of me Bobby said, "you know, you look like you are going to pass out at the table—do you think you should go back to the hotel and lie down? There's a van outside taking folks back to the hotel." As soon as he said van I hightailed it out of there and went straight to the room—I drank a bunch of water, and then the moment my head hit the pillow I was out cold. I woke up in the morning feeling fully refreshed!
Day 4, Tuesday: We had to take a bus back up to the trail from the hotel, which meant breakfast at 6:00, and loading buses at 7:15. Guess who was bringing their luggage down at 7:18? If your guess was the Greensfelder-Ashford family you guessed correctly! Again our bad behavior was reinforced by a late bus, which gave us the opportunity to get to know some of our fellow riders while we waited.
Our last day on the trail was a short one (35 miles). The ride took us into Georgetown, and again we got pavement and smooth trail for a portion of the ride. We also were treated to a barbecue lunch prepared by a Mennonite family that serve as foster parents for the San Mar treatment foster care program. Oh my gosh. You have to join us for this ride next year JUST for this meal. There were pies that were more fruit than pie. There was mac and cheese. There were homemade buns. Yum!
After lunch we passed Great Falls, and were treated to views of cliffs. We continued to ride on and off throughout the day with our new friends from Greensboro. The ride wrapped up with a few miles through DC to mile marker 0 (which fittingly we got a bit lost trying to find). We reunited with the rest of the group and waited for the last folks to come in, then boarded the buses back to San Mar, in Boonsboro. Back in Boonsboro ice cream awaited us as we gathered our gear and waited for the truck with our bikes.
You will not believe who the last riders were to depart from San Mar at the end of the ride! If you guessed us, you're correct!
Throughout the ride we truly experienced the staff of San Mar living out their value of unconditional care. We were more than a tad needy with our missing bike, need for dry accommodations, and constantly bringing up the tail, but they made sure all of our needs were taken care of, above and beyond what we ever expected.
We truly cannot thank you enough for your support of us during this ride—from your encouragement, to your donations to San Mar, it all has meant so much. Think about joining us next year. You can ride a day, the weekend, or the full four days. You won't regret it!
And from a prior TGBT ride:
Richard Vetter, a technical product support analyst with First American, was interviewed for his company's Volunteer Spotlight program after participating in TGBT. This is an excerpt of his interview.
How did you get started with the Great Bicycle Tour?
I was looking for the opportunity to raise money for a worthy cause while also doing something that I really enjoyed. While looking into some of the longer charity rides I found San Mar's Great Bicycle Tour. I decided on this one because it was one of the only rides that benefited the local community directly. San Mar provides foster care and community outreach to keep children from being removed from their families. They also have a children's mental health clinic as well.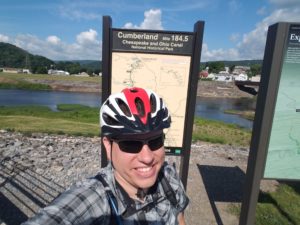 What do you find most rewarding about your experience?
Not only did I get to do what I love doing, but I also got to raise money for a very worthwhile group. I got to meet people that really care about what they are doing and have affected many lives. Some of my fellow riders have been doing it since childhood and have been growing up doing the ride. It was like joining into a new family
What has surprised you most about your time with this group?
I never really thought of the expense and effort it takes to care for children that are in foster care or have behavioral issues. It is very expensive and very few groups do it right. San Mar has been one of the best-run nonprofits I have ever come across. It was a group that truly cared about the children and their success.
What do you hope to accomplish with this group in the future?
My goal is to ride with them again next year and double the amount of money I raised.